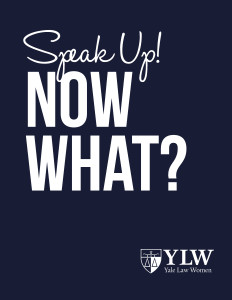 Inspired by earlier research on disparities at the Yale Law School (YLS), Yale Law Women (YLW) convened a working group in the fall of 2014 to delve into issues of climate, diversity, and achievement at YLS. We sought to answer the following three questions:
(1) Should diversity matter as an institutional value for a place like YLS?
(2) What steps, if any, have been taken in the last several years to improve diversity, and have
they been successful?
(3) If problems persist, what can students, professors, and administrators do next?
In search of answers, we looked to several sources of evidence. First, to understand diversity at YLS in the context of legal education more broadly, we collected records maintained by the Law School Admission Council (LSAC) and the American Bar Association (ABA). We then analyzed information from law school websites, journal mastheads, and competition announcements. Second, to capture qualitative data about the culture at YLS and recent initiatives, we conducted twenty-five interviews with faculty, students, and administrators. Lastly, we reviewed literature to explore the academic and social implications of diversity.
The goal of this report is to demonstrate the importance of diversity, as measured by many different metrics, to the success of Yale Law students, faculty, and the institution itself. It concludes by proposing next steps for the administration in increasing the inclusion and support of diverse students and faculty at the law school.
ACKNOWLEDGMENTS
Thank you to our many collaborators and contributors, including the faculty, students, administrators, affinity group leaders, and practicing attorneys who contributed quotes and provided thoughtful insights and comments.
THE SPEAK UP: NOW WHAT? COMMITTEE 2016
Charles Du
Jesselyn Friley
Chiyel Hayles Lum
April Hu
Beezly Kiernan
Monika Kothari
Emma Larson
Andrea Levien
Anna Mohan
My Khanh Ngo
John Rafael Perez
Joseph Samuels
Daniel Sheehan
Shelle Shimizu
Sophia Wang
Rachel Wilf
Alice Xiang
CHAIR OF THE SPEAK UP: NOW WHAT? COMMITTEE
Claire Simonich
ADVOCACY CHAIR OF YALE LAW WOMEN
Grace Heusner
CHAIR OF YALE LAW WOMEN
Stephanie Krent