Portrait Painted in 2001; Located in the Alumni Reading Room.
[divider style="dotted" height="40px" ]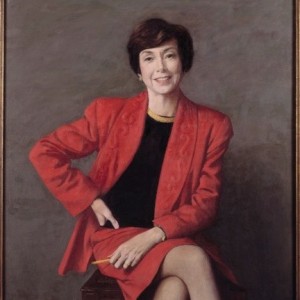 Carla Anderson Hills served as a Presidential Cabinet member and an international trade negotiator in the Gerald Ford and George H.W. Bush administrations. She was the first woman to serve as Secretary of Housing and Urban Development, and the third woman to serve as a Cabinet member. After graduating from Yale Law School in 1958, Hills worked as an Assistant United States Attorney, co-founded the law firm Munger, Tolles, Hills & Rickershauser, taught as an adjunct professor, and served as an United States Assistant Attorney General before being appointed Secretary of the Department of Housing and Urban Development in the Ford administration. Hills returned to the private sector during the Carter and Reagan years, and later returned to the White House as the U.S. Trade Representative under President George H.W. Bush. She was a key figure in negotiating the North American Free Trade Agreement and in updating the General Agreement on Tariffs and Trade. Since then, Hills has remained active in international trade work. She founded Hills & Company International Consultants and the Forum for International Policy, and has served as a member on the International Advisory Boards of several Fortune 500 companies and on several not-for-profit boards, including serving as chair of the National Committee on U.S.-China Relations.