Portrait Painted in 1949; Located in the Alumni Reading Room.
[divider style="dotted" height="40px" ]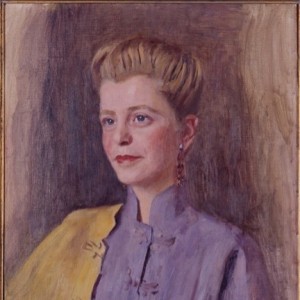 Carolyn Agger was an influential tax lawyer in Washington, D.C. at a time when extremely few women were lawyers. She graduated from Barnard College in 1931 and earned a master's degree in economics from the University of Wisconsin in 1932 before starting her career in Washington at various New Deal agencies. Agger attended Yale Law School at the suggestion of her husband, Supreme Court Justice Abe Fortas, who was a professor there. After graduating from Yale Law School in 1938, Agger worked in government at the National Labor Relations Board, the Senate subcommittee on education and labor, and the tax division of the Justice Department, as well as in private practice at Lord, Day & Lord. She later became a partner and one of the top tax lawyers in D.C. at Paul, Weiss, Rifkind, Wharton & Garrison. In 1960, Agger led an exodus of attorneys from Paul, Weiss to Arnold, Fortas & Porter, where she was a senior partner and head of the tax practice. Agger remained at the firm for three decades. In her later years, Agger became a philanthropist, endowing a scholarship fund at the Law School for women graduates who engage in low-paying legal careers or who pursue postgraduate legal studies and making a major bequest to the John F. Kennedy Center for the Performing Arts.