Portrait Painted in 1987; Located in the Alumni Reading Room.
[divider style="dotted" height="40px" ]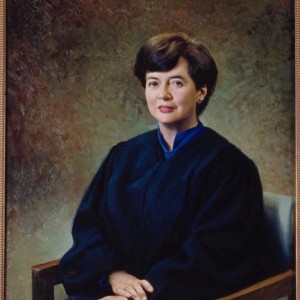 Patricia McGowan Wald was the first woman appointed to the D.C. Circuit Court of Appeals, where she served for twenty years, including five years as Chief Judge. The daughter of a single-parent family, Wald won a scholarship to Connecticut College for Women and graduated from Yale Law School in 1951. After clerking for Judge Frank on the Second Circuit Court of Appeals and working briefly for a law firm, she left the practice of law for ten years to raise her five children. During that period, Wald co-authored a book, Bail in the United States, which catalyzed a change in the national prison bail system and prompted her return to the legal profession. In the late 1960s-1970s, Wald worked as an attorney at the Department of Justice and for one of the only existing public interest law firms at the time, the Center for Law and Social Policy, where she advocated for children and the disabled. She later served as an Assistant Attorney General of Legislative Affairs in the Carter Administration. Wald was appointed to the D.C. Circuit by President Carter in 1979, served as Chief Judge from 1986-1991, and wrote over 800 opinions on the court. After retiring from the bench in 1999, she was appointed to a two-year term as U.S. representative to the International Criminal Tribunal in The Hague. Since then, Wald has served on commissions and boards such as the Open Society's Justice Initiative Board and the Privacy and Civil Liberties Oversight Board.