Portrait Painted in 1989; Located in the Alumni Reading Room.
[divider style="dotted" height="40px" ]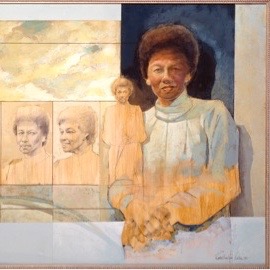 Congresswoman Eleanor Holmes Norton has served as the congressional delegate representing the District of Columbia since 1991 and was previously the first woman to serve as Chair of the Equal Employment Opportunity Commission (EEOC). Norton was active in the civil rights movement, organizing and participating in the 1964 Mississippi Freedom Summer. After graduating with an LL.B. and an M.A. in American Studies from Yale in 1964, Norton clerked for Judge A. Leon Higginbotham, Jr. and was the assistant legal director at the American Civil Liberties Union. She subsequently served as the head of the New York Human Rights Commission and was appointed by President Carter to chair the EEOC in 1977. Following her time at the EEOC, Norton became a tenured professor at Georgetown University Law Center. Throughout her career, Norton has been a feminist leader and constant champion of human and civil rights. In her work as the congressional delegate from the District of Columbia, Norton has advocated for greater representation for D.C. citizens and has advanced economic development efforts in the District. She is the Ranking Member of the House Subcommittee on Highways and Transit and serves on the Committee on Oversight and Government Reform and the Committee on Transportation and Infrastructure.