Portrait Painted in 2001; Located in Room 120.
[divider style="dotted" height="40px" ]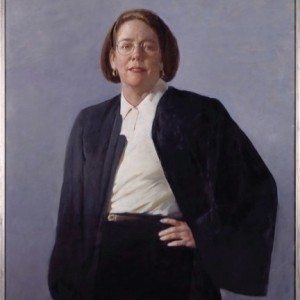 Carolyn Dineen King was the first woman to serve as Chief Judge of the Court of Appeals for the Fifth Circuit and the first woman to chair the influential Executive Committee of the Judicial Conference of the United States. After graduating from Yale Law School in 1962, King was denied a job as an Assistant United States Attorney at the U.S. Attorney's Office in Houston because she was a woman. She was instead hired by Fulbright & Jaworski, where she negotiated to receive the same salary as newly-hired men and established herself as an accomplished corporate securities lawyer. King worked in private practice until 1979, when she accepted President Carter's nomination to the Fifth Circuit Court of Appeals. King has authored over 4,400 opinions on the court, and she served as Chief Judge from 1999 to 2006. Chief Justice Rehnquist appointed King to the Executive Committee of the Judicial Conference of the United States, where she served as Chair from 2002 to 2005. King assumed senior status on the Fifth Circuit at the end of 2013. King has served in leadership positions across the legal world, including serving on both the Executive Committee and the Council of the American Law Institute, where she advised on the Restatement of the Law Third, Torts and the Transnational Insolvency Project. She has also been actively involved in community and civic organizations, serving as a member of the Board of Trustees of Baylor College of Medicine, the United Way, and Saint Thomas University.