Portrait Painted in 1983; Located in Room 127.
[divider style="dotted" height="40px" ]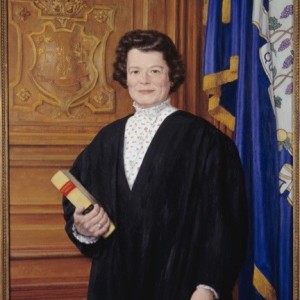 Ellen Ash Peters was the first woman appointed to the Supreme Court of Connecticut, the first woman to serve as Chief Justice of the Supreme Court of Connecticut, and the first woman to become a tenured professor at Yale Law School. Peters was born in Berlin in 1930 and fled to the United States with her family when she was nine years old. Peters graduated from Yale Law School in 1954, and, after clerking for Chief Judge Charles E. Clark of the United States Court of Appeals for the Second Circuit, returned to the Law School at the age of 26 as the first woman appointed to the faculty. Peters, a scholar of contracts and commercial law, taught at Yale Law School from 1956 until her appointment to the Connecticut Supreme Court in 1978. After serving as Associate Justice on the Connecticut Supreme Court for six years, she became the first female Chief Justice in 1984. Peters authored many important state constitutional decisions during her time on the court, including the notable case Sheff v. O'Neill, which held that Connecticut's schoolchildren had a right under the state's constitution to substantially equal educational opportunities. After she ceded her position as Chief Justice in 1996 and took senior status, Peters served as a Judge Trial Referee at the Appellate Court in Hartford from 2000 to 2014, and is now a Visiting Professor of Law at the University of Connecticut Law School.