The YLW Alumnae Achievement Award was first established in 2004 to honor graduates of the Yale Law School. The Award is presented annually to an alumna whose personal and professional career epitomizes the mission statement of Yale Law Women: to advance the status of women at Yale Law School and in the legal profession at large. This award honors women who not only succeed in the highest reaches of their professions, but also use their success to help other women succeed; women who trailblaze to encourage others to follow in their footsteps. The award specifically recognizes alumnae who demonstrate valor, wisdom, and compassion.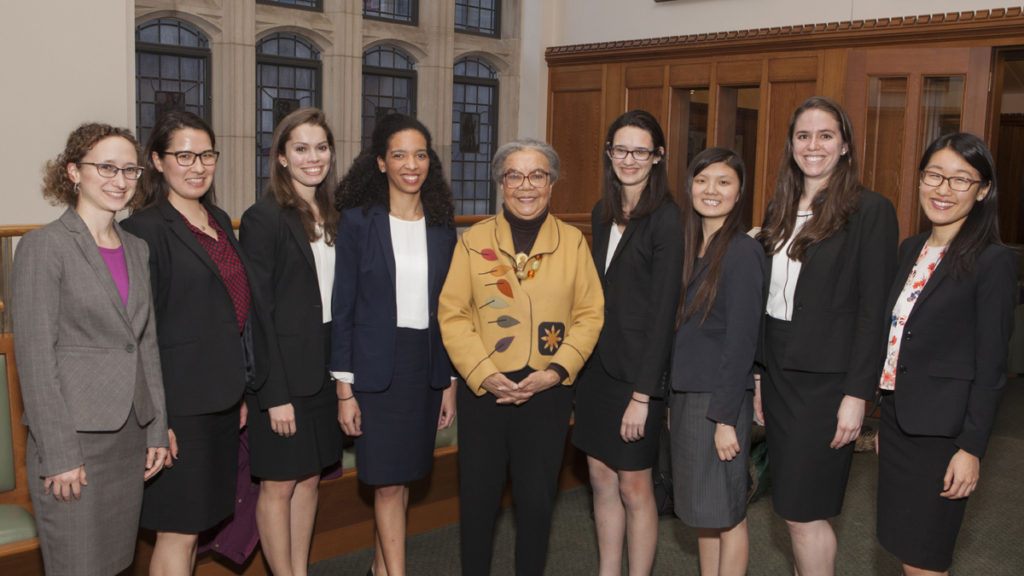 Our list of distinguished recipients of the YLW Alumnae Achievement Award include:
Chief Executive Officer of Harambee Youth Employment Accelerator Maryana Iskander.
Maryana Iskander (2017-2018)
On February 1, 2018, YLW presented the Alumnae Achievement Award to Maryana Iskander, CEO of Harambee Youth Employment Accelerator, a non-profit that partners with South African employers to source, place and successfully retain young, first-time jobseekers. Prior to that Maryana Iskander served as chief operating officer of the Planned Parenthood Federation of America, where she still sits on the board of directors.

Marian Wright Edelman (2016-2017)
On March 2, 2016, Yale Law Women presented the Alumnae Achievement Award to Marian Wright Edelman, activist and founder of the Children's Defense Fund, at a reception at the law school. YLW recognized her accomplishments as a leader and advocate for the rights of women and children. Ms. Edelman provided current YLS students with inspirational stories about what she has learned throughout her career, and encouraged all of us to pursue what is right and fight for opportunities for all Americans. During the event, the law school also used a photo of Ms. Edelman to unveil its new photo project honoring the diversity of our alumni.
Professor Catherine MacKinnon (2015-2016)
On September 24, 2015, Yale Law Women presented the Alumnae Achievement Award to Professor Catherine MacKinnon at a reception at the law school. YLW recognized Professor MacKinnon's accomplishments as a scholar, lawyer, leader, teacher, and advocate for women's rights. Professor MacKinnon provided current YLS students with the top ten lessons she has learned in her career. She encouraged students to speak in ordinary English and to invent fields and legal techniques if the current landscape doesn't include them. After her speech, Professor MacKinnon graciously chatted with students and posed for pictures.
Justice Sonia Sotomayor (2014-2015)
On October 26, 2014, Yale Law Women had the honor of presenting United States Supreme Court Justice Sonia Sotomayor with the Alumnae Achievement Award. Before a crowd of students, Justice Sotomayor encouraged current YLW members to continue forging ahead fearlessly, predicting that one of us would follow her to the Supreme Court. Following her acceptance speech, Justice Sotomayor graciously posed for pictures and chatted with attendees at the reception. YLW is thankful to have had the opportunity to celebrate Justice Sotomayor's many accomplishments and extraordinary character with the Yale Law School student body. For more information, please see YLW Chair Stephanie Krent's welcome speech, YLW Alumnae Relations Chair Julia Shu's award speech, and the letter from YLS students written to Justice Sotomayor.
Former United States Secretary of State, U.S. Senator, and First Lady Hillary Rodham Clinton (2013-2014)
Chief Justice Margaret Marshall (2004-2005)